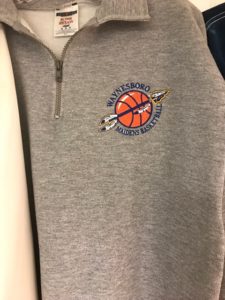 We strive to make your imprinting needs an easy, pleasant, and memorable experience using our three-goal motto as our business plan.
On time delivery – 99.99% of the time
Quality, stand behind workmanship
Competitive fair pricing for everyone
Embroidery is most popular on items such as hats, polo shirts, jackets, woven shirts & other corporate items or when only a few items are desired at one time.
Information you will need for your project:
Your design, text or logo.
Size of your design.
How many items do you want
Type of items you want
Your sizes
Your event date
Pricing of Embroidery:
Type of item
Number of items
Size, (number of stitches) not number of colors. Volume plays a small role in your pricing with the cost being lower with more items. Your total price is made up of the item price + the stitch count price. We offer discounts on both for as low as ½ dozen items. You have no digitizing setup fee if you pick one of our thousands of stock designs. However, if you want your very own custom design, we can do that for a one-time digitizing fee. This is not charged on any repeat orders – great for business as new employees are added.
Hidden Costs
Are there any hidden costs?
No, never, the only extra charge is for big & tall sizes which comes directly from the manufacturer.
We will make you look your absolute best!